The Capitol Hill Art League presents its Seventh Annual Metro DC open juried exhibition: April Show, Theme "Our World" 2018
April 22nd is the anniversary of the modern-day environmental movement.  What better time to honor our world.  We and the world around us is in a constant state of flux, influenced by climate, inhabitants, events, time, and gravity.  The Capitol Hill Art League invites you to express in art form what OUR WORLD means to you? This exhibit is open to 2-d and 3-d work, juried by curator and writer, Eric Hope.
All artists, 18 years of age or older residing in the Washington, DC metropolitan area are eligible to enter. Digital Entry Deadline for submissions is March 10, 2018 (midnight).
Exhibit Dates: April 18-May 31, 2018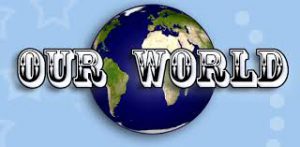 Juror: Eric Hope/curator and writer based in Washington, DC,  gained a passion for contemporary art through volunteer marketing work at the Hirshhorn Museum and Sculpture Garden and The Phillips Collection.  In 2009, after over a decade of work at large institutions, he  moved into the realm of curation, staging a variety of solo and group exhibitions at the Evolve Urban Arts Project in the H Street neighborhood of DC.  He is currently a senior Contributor at East City Art, where he has extensively critiqued exhibitions throughout the metro region for the past seven years.
For complete details/instructions, please read this:http://www.caphillartleague.org/wp-content/uploads/2018/01/Our-world-prospectus-2018.pdf
Digital ENTRY:  Selections for the exhibit will be made by the judge from JPEG images submitted online by the artists.  All work must be original and signed by the artist.  Any work previously shown at a Capitol Hill Art League juried exhibit is ineligible. All work must have been created within the last three years.  ENTRY FEES: **Up to 3 entries may be submitted for a non-refundable fee of $30 (current Capitol Hill ART League members $20). Up to two additional entries may be submitted at $5 each.  Artists submitting 3-dimensional work may provide two images of each piece. To enter, go to https://client.smarterentry.com/chal and follow the instructions there.
Where: CHAW.  Opening reception: April 21. NEW CLOSING DATE: May 31
Awards will include cash awards for Best in Show and Merit awards. Two Honorable Mentions will be awarded. All awards will be presented at the opening reception and judge's talk on April 21, from 5:00-7:00 PM with the juror presenting his remarks at 6pm.