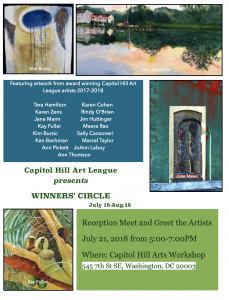 Capitol Hill Art League proudly presents our  annual "juried winners"' from 2017-2018 season shows.
Featured artists: Kim Bursic, Jane Mann, Sally Canzoneri, Kay Fuller, Ann Pickett, Ken Bachman, Karen Cohen, Tara Hamilton, Jim Huttinger, Ann Thomson, JoAnn Laboy, Karen Zens, Meera Rao and Rindy O'Brien.  Note: Marcel Taylor was an award winner, too, but is not exhibiting in this show.
Reception/ free and open to the public: July 21 from 5-7pm

Where: Capitol Hill Arts Workshop, 545 7th St SE, Washington, DC
Exhibit Dates: July 20-August 18, 2018.