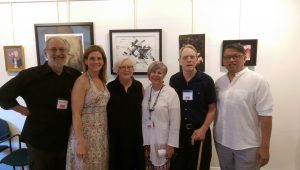 JUNE WINNERS CIRCLE EXHIBIT.  CHAL Season's Award Winners from Sept. 2018 – Aug. 31, 2019 will be showing their artwork in this group, unjuried show. Exhibit runs: June 22-August 17.
Congratulations to the following members for receiving awards for this season:
                   Nico Gozal, Hernan Murno, Robert Weinstein (By Design), Mai Pham, Karen Cohen, Kate McConnell, Elizabeth Eby, Kay Fuller and JoAnn Laboy (HOME), Rosabel Goodman (TREEmendous at Hill Center), Ann Pickett, Nancy Arbuthnot, Judy Searles, Hernan Murno and Susan Canuteson (Joie de Vivre), Kimberley Bursic (Peoples' Choice for Nov. Artists' Choice) and Charles Martin (People's Choice for April 2019 Artists' Choice).
Reception Date: June 22 from 5-7pm at Capitol Hill Arts Workshop, 545 7th St SE
Photo credit: Gregg Adams. Shown left to right Robert Weinstein, Ann Pickett, Kay Fuller, Karen Cohen, Charles Martin, and Nico Gozal
Fans, friends, and family are invited to our reception to  meet astounding artists in person!         This is the last exhibit for the 2018-2019 season! Don't miss it.