Over 32 members and many guests attended our very first virtual reception held via Zoom for the awards and juror's remarks re: Meltdown competition. John Coppola, juror and former exhibition director for the Smithsonian, selected 29 works of art for this exhibit and out of those 29 he awarded five finalists.
Juror John Coppola's Statement: "Edgar Degas pointedly said, Art isn't what you see. It's what you make others see. In selecting works for this exhibition, I focused on submissions that made me–and I hope, those who see the exhibition online–look at our current state of affairs in all its complexity and uncertainty from differing points of view. Hats off to the CHAL artists who pushed through the pandemic and social unrest to create art. Frankly, it was better than I did: My drafting table is cluttered with notes and sketches for work I never quite got to. Thanks both to the Capitol Hill Art League for inviting me to jury "Meltdown," and to the participating artists who got me to re-engage with art!"
NOTE: All the artwork is for sale, framed or unframed, as noted in each image. Please contact chalartists(at)gmail.com if you are interested in purchasing one of these artworks, arrangements will be made for easy credit card payment over the phone, and easy pick up in DC.
25% of the every sale go to CHAW for their children and adult programs.
Here is an edited version of our Zoom Reception dated June 27, 2020 with our Juror, John Coppola, announcing his finalists. You will need a video app on your device to view this and it has been shortened to post on our Website. Thank you to Karen Zens, exhibit Manager, and Karen Cohen, zoom video host and Web admin. https://www.caphillartleague.org/wp-content/uploads/2020/07/MeltdownZoomreceptionJune272020shortversion.mp4
First Prize: LOST by Rindy O'Brien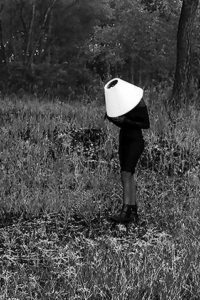 Second Prize: THE LONELY MAN WAS BLESSED WITH WISDOM TO
THE POINT OF DESPERATION by J Jaffery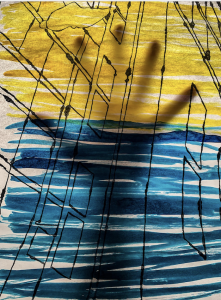 Third Prize: TIDAL BASIN MORNING by Judy Searles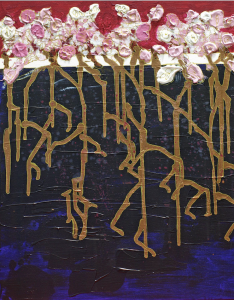 Honorable Mention: TARQUIN AND LUCRETIA (After Tintorreto) No. 3 by Kim DiDonato-Murrell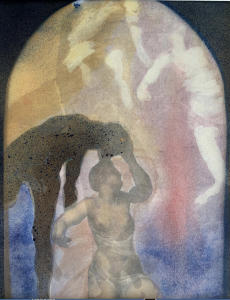 Honorable Mention: QUARANTINE IS CRUMBY by Linda Norton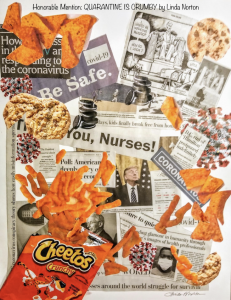 Congratulations to ALL artists who entered! Here are the 29 selected artists featured in MELTDOWN (in no particular order) Enjoy the show!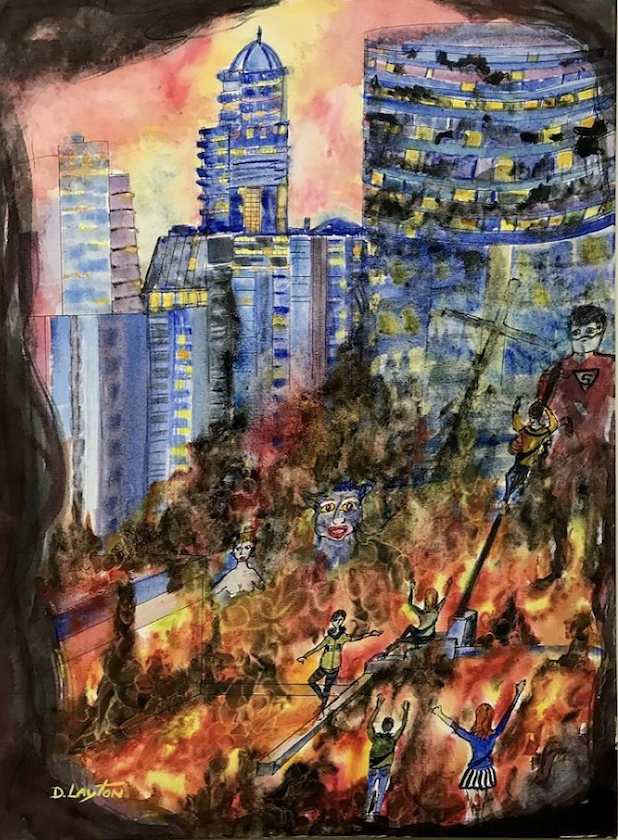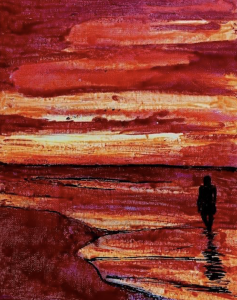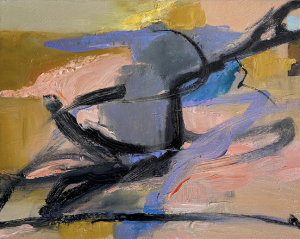 1. Tara Hamilton Meet the Sun
2. Karen Zens ERUPTION
3. Rindy O'Brien LOST
4. Elizabeth Eby Yak, Yak, Yak
5. Nancy Arbuthnot WHITE HOUSE MELTDOWN
6. Kate McConnell STAY AFLOAT
7. Judy Searles TIDAL BASIN MORNING
8. Carolyn Rondthaler IN A MOOD
9. Kenneth Bachman KEEP ON COMING
10.Karin Edgett CAPITOL POLICE
11.Sally Canzoneri ONE HUNDRED THOUSAND DEAD
12.Linda Norton QUARANTINE IS CRUMBY
13.Meera Rao REGRET
14.Hernan Murno ANTARCTICA
15.Karen Van Allen GROUNDLESSNESS
16.Karen Cohen DISTANCING
17.Marilyn Christiano MIND MELT
18.Gloria Maria Grandolini HANGING ON
19.Kim DiDonato TARQUIN AND LUCRETIA
20.Nico Gozal GAIA
21.Mary Elizabeth Gosselink HEAT WAVE
22.Julie Byrne Looking Down
23.Nan Raphael SILENT SPRING
24.Jason Jaffery THE LONELY MAN WAS BLESSED WITH
WISDOM TO THE POINT OF DESPERATION
25.Anne Albright SPLASHES
26.Ellen Yahuda LONDON PANDEMIC OUTREACH HEROES
27.Dee Ann Layton GLOBAL MELTDOWN
28.Victoria Lake PANDEMONIC
29.Vincent Iannacchione BURNING A HOLE IN THE GRIP OF THE FAMILIAR
Plaza Art in DC has donated one gift card for the First place winner $100.