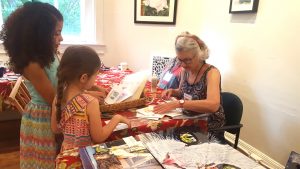 June 2, 2018 Capitol Hill Arts Workshop (CHAW) hosted a day long celebration of the programs housed in their community center for the arts. Dance recitals, music performances, adult students' art exhibit and artists from Capitol Hill Art League convened in various rooms to PERFORM. Our artist and hostess of the monthly CHAL members' critique, Carolyn Rondthaler, sketched and watercolored a cute little teapot on exhibit. Nancy   Arbuthnot, another watercolor artist, had a bevy of little girls gathered to help her add crayon colors to her handmade greeting cards-maybe they will be future artists, too! Kim Bursic, Karen Cohen, Jan Zastrow, Karen Van Allen and Mary Ellen (M'El) Abrecht sold their prints, cards and paintings throughout the day.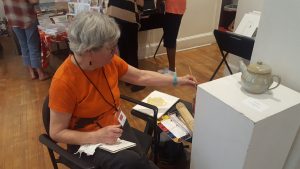 Shop and Drop raffle to benefit the Summer camp program for children held various donated items such as Nets tickets, jewelry, and several art items from CHAL artists. Many visitors bought raffle tickets and winners will be drawn at random on Monday.
Capitol Hill Art League is a program of Capitol Hill Arts Workshop.