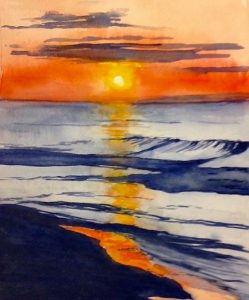 Capitol Hill Art League Members Pop – Up Art Exhibit
Theme:"EARTH-WIND-FIRE"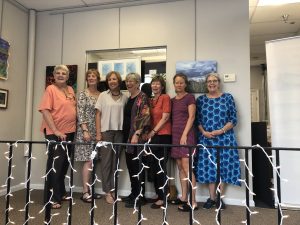 Elin, Tara, JoAnn, Carolyn, Karen Z, Karin E, and Elizabeth at Frame of Mine Reception
Where: Frame of Mine Gallery 545 Eight Street SE, DC
Exhibit Runs: September 1-30
For this month of September, it is fitting for its theme to be "EARTH-WIND-FIRE". Use your imagination to incorporate the theme into your artwork.
CHAL members are invited to drop off one or two paintings/photographs. There is no space for three dimension pieces. Space available will determine how many pieces will be hung. Each piece must be labeled with artist name, name of artwork, medium, price and contact information. Please have your artwork framed and ready to hang – i.e. wire stretched across the back with D-rings. No sawtooth hangers or clips can be used with the hanging system at Frame of Mine. Fee payable to CHAL of $5.00 check/cash
For the reception on September 6th please invite your fans – family and friends. Please bring wine and/or "finger food" snack ready to serve.
DATES to remember:
Drop off art work : Sat, August 31st, 11:00 am to 1:00 pm
Reception: Friday, September 6th 5:30 to 7:30
Pick up Artwork: Monday, September 30th