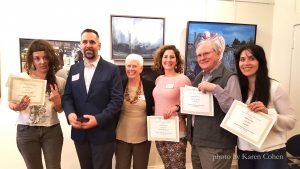 Capitol Hill Art League's "Our World" Show Features Region's Artists 
This year's Capitol Hill Art League (CHAL) open call to artists in the metropolitan Washington region garnered entries from artists around the region. Juror Eric Hope had the task of choosing 30 pieces representing a broad spectrum of work. Please read his statement here.
The juried winners are:  First Prize: Sarah O'Donoghue "Swamp Thing (sicko)"
Second Prize: Jennifer Barlow "Summer Refreshment"
Third Prize: Megan Walsh "Saudades"
Honorable Mention: Rindy O'Brien (CHAL member) "Color My World
Honorable Mention: Ken Bachman (CHAL member) "Wave Fury"
Eric Hope is a curator and writer based in Washington, DC.  He gained a passion for contemporary art through volunteer marketing work at both the Hirshhorn Museum and Sculpture Garden and The Phillips Collection. A senior Contributor at East City Art, he has extensively critiqued exhibitions throughout the metro region for the past seven years.
Congratulations to the featured artists:  Kenneth Bachman; Jennifer Barlow; Joyce Frank; Ayanah George; Tara Good; Tom Greaves; Tara Hamilton; Vincent Iannacchione; James Mallos; David Mann; Kate McConnell; Kathryn Mohrman; Hernan Murno; Richard Niewerth; Rindy O'Brien; Sarah O'Donoghue; Christine Parson; Alex L. Porter; Alex Tolstoy; Karen Van Allen; Meghan Walsh; Steve Wanna; Lang Wethington; Kirsten Williams; and Jan Zastrow. For a full list of titles/prices, please click here.
Opening reception on Saturday, April 21st, awards presentation and juror's remarks from 5:00pm-7:00pm. Capitol Hill Arts Workshop (CHAW) Gallery, at 545 7th St. SE.
The event is free and offers wine, food, and conversation with the artists for insight on their work. The exhibit runs April 21– May 31. CHAW general gallery hours are: 9:30 am–9:00 pm (M-Th), 9:30 am–6:00 pm (F), and 9:00 am–2:00 pm (Sat).   For more information, visit www.chaw.org, or call (202) 547-6839.