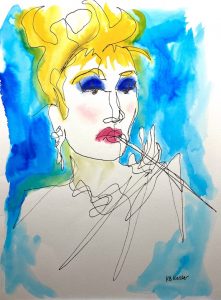 Making New Connections Art Show is our first, (unjuried), group exhibit for NEW members who have joined CHAL since Jan. 2020
Where: Frame of Mine Gallery 545 8th St NE, DC
Exhibit Runs- September 8- October 3, 2020
Visitors/Artists are welcome to view the artwork exhibit in person. For hours of operation, please visit: https://www.frameofminedc.com
Guests are welcome weekdays during business hours, the front door is locked and guests will have to ring the bell to get in, no appointment is needed. On the weekend(s), the doors will be open. Groups of 4-5 people at a time in the gallery are allowed, masks are required. Hand sanitizer will be stationed throughout. 
NOTE: There will be a 20% discount given on custom framing from anything purchased in the gallery CHAL exhibit.
Our exhibit features the following new members in various art mediums, acrylic painting, oil painting, pastels, encaustics, watercolor, archival inks, and photography: Mary E. Gosselink, Lori Niland Rounds, Martina Sestakova, Sarah Burford, Steve Kunin, Anne Albright, E. Lynn Coates, Nan Raphael, Kim DiDonato-Murrell, Ellen Yahuda, KB Kessler, Jeffery Miller.