Capitol Hill Art League invites friends, fans, and family to our Artists Choice exhibit. CHAL Artists have chosen their favorite artwork to display and sell.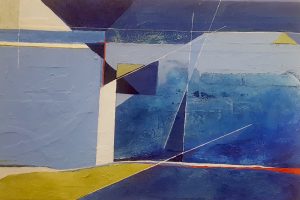 "I Love Blue", painting by Karen Van Allen
Featuring: Karen Van Allen, Mary Procter, Bill Matuszeski, Nico Gozal, Jim Huttinger, Karen Cohen, Nancy Ennis, Karin Edgett, Ken Bachman, Erika Rubel, Tara Hamilton, James Mallos, Charles Martin, Jan Zastrow, Linda Norton, Rindy O'Brien, Kim Bursic, Ann Pickett, Elizabeth Eby, Karen Zens, Kate McConnell, Marian Wiseman, Michael McSorely, Elin Whitney-Smith, and Carolyn Rondthaler.
Location:Capitol Hill Arts Workshop/CHAL Gallery, 545 7thSt SE
Reception Dates:  May 18 from 5-7pm. Everyone is invited to vote for People's Choice!
Exhibit runs: May 13 – June 1, 2019   CHAW/CHAL Gallery hours are Monday-Saturday, closed Sundays.