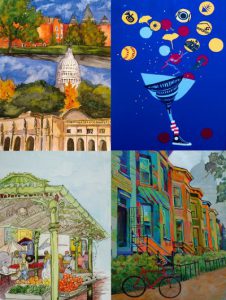 The winners of the Capitol Hill Banner Design Contest are as follows: "Hill Icons" by Tara Hamilton (top left), "Effervescence Hill" by Rindy O'Brien and Elizabeth Eby (top right), "Chilly Day at Eastern Market" by Linda Norton (bottom left), and "Capitol Hill in Living Color" by Kay Fuller (bottom right). Congratulations!
The theme "It's all here on the Hill",  portrayed in the winning designs have been reproduced on banners and now hang on over 100 light poles throughout Capitol Hill neighborhood. Go see them!
The  Capitol Hill Business Improvement District (BID) will hold a short unveiling ceremony  Thursday, February 2nd at noon at the Eastern Market Metro Plaza. At the ceremony, the four banners selected from the competition will be on display and awards will be presented to the five CHAL artists who created them. Light refreshments will be available. Come and meet these artists!
All the artists who entered the competition will have an opportunity for their work to be auctioned off to the public, on Feb. 28, with the funds raised being split 50/50 between the artist and the BID's Ready, Willing & Working charity program. Click here for the catalog of art to be auctioned. 
Where: The Hill Center, (921 Pennsylvania Avenue, SE) at the Capitol Hill BID's Annual Membership Meeting.    When: Tuesday, February 28th, 2017  8:00AM-10:00AM.