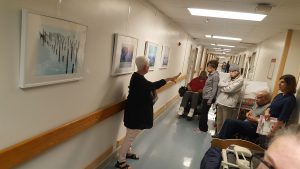 CHAL Members EXHIBIT AT THE COMMUNITY LIVING CENTER (CLC) VA MEDICAL CENTER
Six CHAL members exhibit five 2-D art at CLC, 50 Irving St. NW, Washington, DC
Karin Edgett~Elizabeth Sampson~Joan Owings~Karen Cohen~Marie Cilia De Amicis
and Rindy OBrien
Talk and Tour: May 9 Tuesday 2:30pm Rindy O'Brien and Karen Cohen discuss their exhibit in person.
Exhibit Dates: April 16-August 5, 2017
All sales are directly between the buyer and the artist. No commissions are taken. A  second group of works by five different artists will be installed from August 12 through November 4, 2017.  Selected artists will be contacted with further delivery guidance.