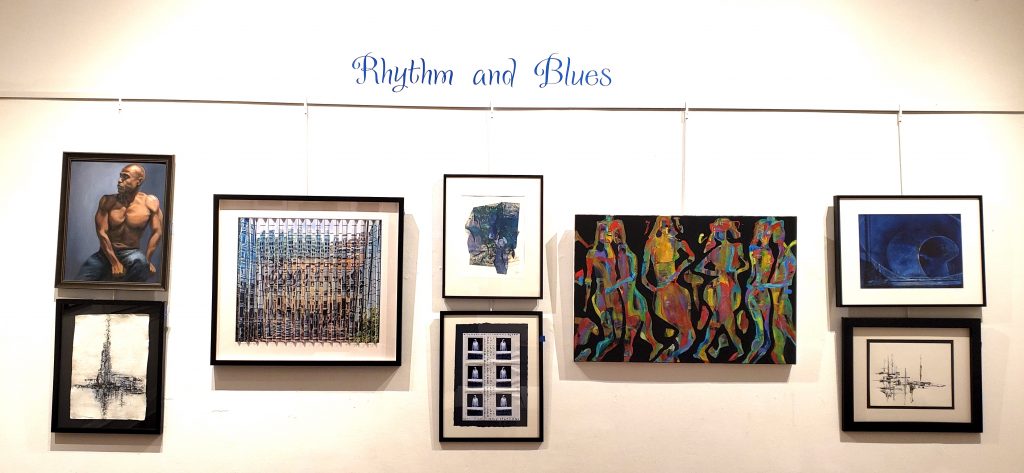 Juror and award winning artist, Justyne Fischer, selected the following CHAL members/artists to exhibit in the Rhythm and Blues members' show and awarded the following:
First Place: Tamora Ilasat-Compositions in Blue II, collage and acrylic painting
Second Place: Kenneth Bachman- Presence, oil painting
Third Place: Jane Mann-San Diego, photography
Honorable Mentions: Karen Cohen-Federal Brass Band 2019, photography/collage
J Jaffery- "all I own are the rhythm of my breath and the beatings of my heart." Digital photography
Nan Raphael-This Too Shall Pass, photography
Exhibiting artists: Roberta Abel, Ken Bachman, Julie Byrne, Sally Canzoneri, Marilyn Christiano, Karen Cohen, Kim Di Donato-Murrell, Kay Elsasser, M.E. Gosselink, Nico Gozal, Jim Huttinger, Tamora Ilasat, J Jaffery, JoAnn Laboy, Jane Mann, Linda Norton, Rindy O'Brien, Ann Pickett, Nan Raphael, Anne Shields, Karen Van Allen, and Karen Zens.
Award certificates were announced at our reception along with juror's remarks by Justyne Fischer.
Reception-Saturday Feb. 15 from 5-7pm. at CHAW/CHAL gallery.
Exhibit dates: Feb. 14-March 14
Please wear something BLUE, just for the fun of it!