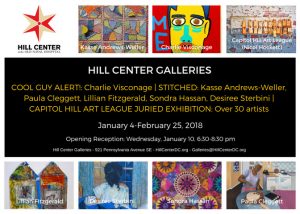 Congrats to the following CHAL artists!     Exhibit dates: January 4 through February 25th, 2018.
Karen Zens, Kasse Andrews-Weller, Ken Bachman, Kimberley Bursic, Sally Canzoneri, Marilyn Christiano, Karen Cohen, Marie-B De Amicis, Kay Fuller, Bob Fuller, Tara Hamilton, Robin Harris
Nicol Hockett, Barbara Johnson, Eric Johnson, JoAnn Lamicella Laboy, Robert Liparitito, James Mallos,Jane Mann, Mike McSorley, Linda Norton, Rindy O'Brien, Ann Pickett, Meera Rao, Carolyn Rondthaler, Judy Searles, Patricia Smith, Sandra Tallant, Ann Thomson, Karen Van Allen, and Corinne Whitlatch.
 Best in Show awards were presented:  Jane Mann for 2 pieces: Haut-de-Cagnes and Paris (both photomontage), Sally Canzoneri for Milan Staircase View (inkjet print), Kay Fuller for 2 pieces: Passing Thoughts 1 and Passing Thoughts 2 (collage and acrylic paint on paper), Ann Pickett for Rosie Posey (acrylic painting), Ken Bachman for Fall Hike (oil painting), AND  Karen Cohen for Afterwork (digital photograph).
 Capitol Hill Art League has the privilege of exhibiting our art work annually in a recognized art venue and community establishment on Capitol Hill, namely the Hill Center Galleries. Every winter the Hill Center juries and hosts CHAL.