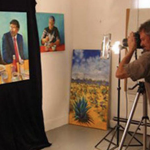 You asked for it!
Photographer Greg Staley, will photograph CHAL members' artwork with CoVid-safe safe Photo Shoot in the Black Box by appointment only.
DATE: Monday, December 7th. 10:00 AM – 1:00 PM.
APPOINTMENT ONLY – First come First Serve basis (12 total participants ) If you are late you sacrifice your slot. 🙁
SCHEDULING: Sign Up Genius or other email forthcoming to all members
PROTOCOL: 3 artist per 45 minute slot which includes Art Drop Off – Art Photographed – Art Pick Up. (There may be a maximum number of pieces, TBD.) Coordinator: Kate McConnell CHAL member. Fees: COSTS: $10 per piece being photographed.
CASH or CHECK made out to: Greg Staley Photography.
Everyone must wait outside (not in CHAW) for your pieces to be completed and immediately pick up at your art at appt. window's end. Artists must be MASKED, and no more than 1 artist in the building at a time. Kate McConnell supervises drop-off in Gallery, Danny CHAW staff supervises the door/entrance.
PLEASE NOTE: given these circumstances, 3-D pieces can NOT be photographed in this particular circumstance. CHAL 3-D artists make direct arrangements with Greg as needed.