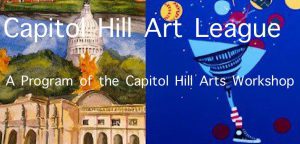 ~JANUARY~Artists' Choice – unjuried
Members-only all-media exhibit at CHAW Receiving: January 6 & 8, 9:30-11:30am Opening:January 13, 5-7pm  Closes: February 24
CHAL at the Hill Center Annual Invitational Juried Exhibit-Members only, January 4-February 25    Delivery: January 2, 8-11am     Opening reception: January 10, 7-9pm    Pickup: February 26, 2018
CHAL exhibit at the VA/Community Center in DC Closes/please pickup: January 6, noon-2pm
CHAW Blog: Sandy Tallant  Exhibiting at ENO Wine BAR: Brian Truesdale
~FEBRUARY~Our World – open-call exhibit at CHAW Juror: Eric Hope
Digital submissions begin: early January. Enter here
CHAW Blog: Mike McSorley  ENO Wine Bar: Brian Truesdale
~MARCH~Our World – open-call exhibit at CHAW Submission continues. Deadline: March 10
Artists notified: March 25
Community Forklift Garden Party Pop-up exhibit & sale for CHAL members
Set-up: March 23, 5-7pm
Event: March 24, 9am-3pm
CHAW Blog: Jonathan Weiner ENO Wine Bar: Jane Mann
~APRIL Our World – OPENS   Delivery at CHAW: April 6-9 during regular CHAW business hours (see www.chaw.org) Opening Reception: April 21, 5-7pm  Closes: June 2
Pickup: June 2-6 during regular CHAW business hours
CHAL Exhibit at the VA in DC Delivery/opening: April 14, noon-2pm    Closes/pickup: August 11, noon-2pm
CHAW Blog: Karin Edgett   ENO Wine Bar: Jane Mann
~MAY ~ CHAW Blog: Brian Truesdale
ENO Wine Bar: Kasse Andrews-Weller
~JUNE~Artists' Pick – unjuried
Members-only all-media exhibit at CHAW Receiving: June 16 & 18, 9:30-11:30am Opening: June 23, 5-7pm     Closes: July 14   CHAW Blog: Meera Rao
ENO Wine Bar: Kasse Andrews-Weller
~JULY~Winners' Circle – exhibit of award winners Receiving: July 14 & 16    Opening: July 21, 5-7pm  Closes: August 18. Names of winning members will be announced and those members will be contacted regarding their exhibit.
CHAW Blog: TBD ENO Wine Bar : TBD-If you are a current member, please contact CHAL steering committee for an exhibit at Eno Wine Bar in Georgetown OR/and for the CHAW blog called "Mind of the Artist".
~AUGUST CHAL Exhibit at the VA in DC Delivery/opening: August 18, noon-2pm Closes/pickup: January 12, 2019, noon-2pm. Please volunteer to display your artwork for our Vets. Contact: chalartists@gmail.com
CHAW Blog: TBD    ENO Wine Bar: TBD
Questions about CHAL? Contact the Steering Committee at chalartists@gmail.com. Instagram: caphillartleague
www.caphillartleague.org has all the latest news, member exhibits, receptions, acceptance lists for exhibits, downloadable forms, CHAL Handbook which includes framing guidelines, a calendar of all our activities, and archives of past newsletters and acceptance lists.