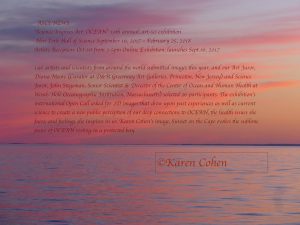 "Science Inspires Art: OCEAN", 19th annual, art-sci exhibition. Reception: Oct.1st from 3-5pm
Where: New York Hall of Science, Queens, NY    Dates: September 16, 2017 – February 25, 2018
146 artists and scientists from around the world submitted images this year. Juror, Diana Moore (Curator at D&R Greenway Art Galleries, Princeton, New Jersey) and Science Juror, John Stegeman, Senior Scientist & Director of the Center of Ocean and Human Health at Woods Hole Oceanographic Institution, Massachusetts) selected 36 participants. CHAL member and award winning photographer, Karen Cohen, was chosen as one of the exhibitors for her photograph called, Sunset at the Cape.